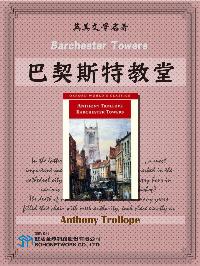 Who Will Be the New Bishop?
In the latter days of July in the year 185––, a most important question was for ten days hourly asked in the cathedral city of Barchester, and answered every hour in various ways—Who was to be the new bishop?
The death of old Dr. Grantly, who had for many years filled that chair with meek authority, took place exactly as the ministry of Lord –––– was going to give place to that of Lord ––––. The illness of the good old man was long and lingering, and it became at last a matter of intense interest to those concerned whether the new appointment should be made by a conservative or liberal government.
章節
Barchester Towers(p.navPoint-1)

Anthony Trollope(p.navPoint-1)

Chapter 1 Who Will Be the New Bishop?(p.navPoint-3)

Chapter 2 Hiram's Hospital According to Act of Parliament(p.navPoint-4)

Chapter 3 Dr. and Mrs. Proudie(p.navPoint-5)

Chapter 4 The Bishop's Chaplain(p.navPoint-6)

Chapter 5 A Morning Visit(p.navPoint-7)

Chapter 6 War(p.navPoint-8)

Chapter 7 The Dean and Chapter Take Counsel(p.navPoint-9)

Chapter 8 The Ex-Warden Rejoices in His Probable Return to the Hospital(p.navPoint-10)

Chapter 9 The Stanhope Family(p.navPoint-11)

Chapter 10 Mrs. Proudie's Reception—Commenced(p.navPoint-12)

Chapter 11 Mrs. Proudie's Reception—Concluded(p.navPoint-13)

Chapter 12 Slope versus Harding(p.navPoint-14)

Chapter 13 The Rubbish Cart(p.navPoint-15)

Chapter 14 The New Champion(p.navPoint-16)

Chapter 15 The Widow's Suitors(p.navPoint-17)

Chapter 16 Baby Worship(p.navPoint-18)

Chapter 17 Who Shall Be Cock of the Walk?(p.navPoint-19)

Chapter 18 The Widow's Persecution(p.navPoint-20)

Chapter 19 Barchester by Moonlight(p.navPoint-21)

Chapter 20 Mr. Arabin(p.navPoint-22)

Chapter 21 St. Ewold's Parsonage(p.navPoint-23)

Chapter 22 The Thornes of Ullathorne(p.navPoint-24)

Chapter 23 Mr. Arabin Reads Himself in at St. Ewold's(p.navPoint-25)

Chapter 24 Mr. Slope Manages Matters Very Cleverly at Puddingdale(p.navPoint-26)

Chapter 25 Fourteen Arguments in Favour of Mr. Quiverful's Claims(p.navPoint-27)

Chapter 26 Mrs. Proudie Wrestles and Gets a Fall(p.navPoint-28)

Chapter 27 A Love Scene(p.navPoint-29)

Chapter 28 Mrs. Bold is Entertained by Dr. and Mrs. Grantly at Plumstead(p.navPoint-30)

Chapter 29 A Serious Interview(p.navPoint-31)

Chapter 30 Another Love Scene(p.navPoint-32)

Chapter 31 The Bishop's Library(p.navPoint-33)

Chapter 32 A New Candidate for Ecclesiastical Honours(p.navPoint-34)

Chapter 33 Mrs. Proudie Victrix(p.navPoint-35)

Chapter 34 Oxford—The Master and Tutor of Lazarus(p.navPoint-36)

Chapter 35 Miss Thorne's Fête Champêtre(p.navPoint-37)

Chapter 36 Ullathorne Sports—Act I(p.navPoint-38)

Chapter 37 The Signora Neroni, the Countess De Courcy, and Mrs. Proudie Meet Each Other at Ullathorne(p.navPoint-39)

Chapter 38 The Bishop Sits Down to Breakfast, and the Dean Dies(p.navPoint-40)

Chapter 39 The Lookalofts and the Greenacres(p.navPoint-41)

Chapter 40 Ullathorne Sports—Act II(p.navPoint-42)

Chapter 41 Mrs. Bold Confides Her Sorrow to Her Friend Miss Stanhope(p.navPoint-43)

Chapter 42 Ullathorne Sports—Act III(p.navPoint-44)

Chapter 43 Mr. and Mrs. Quiverful Are Made Happy. Mr. Slope is Encouraged by the Press(p.navPoint-45)

Chapter 44 Mrs. Bold at Home(p.navPoint-46)

Chapter 45 The Stanhopes at Home(p.navPoint-47)

Chapter 46 Mr. Slope's Parting Interview with the Signora(p.navPoint-48)

Chapter 47 The Dean Elect(p.navPoint-49)

Chapter 48 Miss Thorne Shows Her Talent at Match-Making(p.navPoint-50)

Chapter 49 The Beelzebub Colt(p.navPoint-51)

Chapter 50 The Archdeacon Is Satisfied with the State of Affairs(p.navPoint-52)

Chapter 51 Mr. Slope Bids Farewell to the Palace and Its Inhabitants(p.navPoint-53)

Chapter 52 The New Dean Takes Possession of the Deanery, and the New Warden at the Hospital(p.navPoint-54)

Chapter 53 Conclusion(p.navPoint-55)